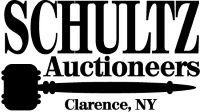 Weekly Auctions of Exceptional Items
Upcoming Auctions
Reviews
Past Auctions
Upcoming Auctions from Schultz Auctioneers
Schultz Auctioneers has no upcoming auctions.

Follow this

auctioneer to hear about new auctions.
Bidder Reviews for Schultz Auctioneers (114)
8 Latest ReviewsSee All
Steven M.
Sacramento, California
Terrific service, rapid responses!
I had never dealt with Schultz before, but had a terrific experience, and will follow their auctions from now on. I am thoroughly delighted with my purchases and experience with Schultz!
Exelente
Serios, me respondieron a tiempo todas mis dudas, y recib í mi env í o en perfectas condiciones.
Joe
Apple Valley, California
Wonderful Organization. Quick, Friendly, Knowledgeable, added them to my watch list!
Excellent Auction House, Top notch personnel.
Easy to deal with.
Easy to deal with.
Alexander
Valley Village, California
Jeffrey
Grand Island, New York
Connor
Glen Ridge, New Jersey
Top notch auction house!!!
Accurate and clear photos and descriptions, prompt invoicing, easy to work with on pickup-nobody does it better. Will be returning for future purchases!